Toronto fans of Seinfeld will soon be able to feel like they've just walked into an episode of the TV show.
29 year old Mackenzie Keast and some of his pals are planning to open a Toronto restaurant modelled after the famous diner on Seinfeld.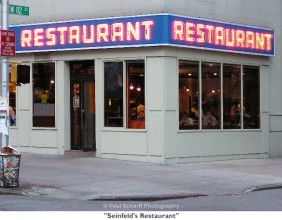 Keast says the diner will be somewhere in the Dufferin and Dundas area, but they're still trying to figure out the spot for it.
Monk's Diner was the setting for many scenes on the popular 1990s television show.
Menu items at the Toronto Seinfeld restaurant will include staples from the show; big salads, muffin tops, calzones, and salty pretzels, to name a few.
It's planned to open in July and run through September.