Chinese artist and activist Ai Weiwei has recreated the image of that drowned Syrian toddler that provoked fierce debate last year about the plight of refugees.
Alan Kurdi's body washed up in Turkey after the boat carrying his family capsized while they were trying to reach family in Canada.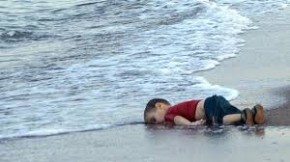 The photograph of Ai Weiwei was taken on the Greek Island of Lesbos where the artist has set up a studio.  The picture is for an exhibition at the India Art Fair .
Lesbos is one of the main arrival points for migrants and refugees hoping to enter the European Union.