Toronto Police Chief Mark Saunders has confirmed that four of his officers are facing charges of obstruction of justice and perjury.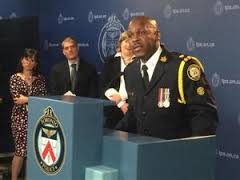 Saunders told a news conference this morning that the charges relate to accusations that heroin was planted in a Toronto man car after a bogus traffic stop in January 2014.  The chief also confirmed the police service is looking at other cases the officers were involved with.
The judge presiding over the original case found the officers concocted a false story to justify stopping the car and then placed heroin in the vehicle.