For just the second time in its history, a children's novel has been named England's Costa Book of the Year.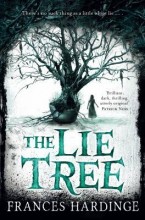 Frances Hardinge's Victorian murder mystery, "The Lie Tree", beat the bookies favourite, debut author Andrew Michael Hurley's Gothic horror story "The Loney".
"The Lie Tree", the author's seventh novel, tell the story of a girl whose family departs England for a remote island to escape a scandal.
The Costa Book Awards honour some of the most outstanding books written by authors based in the UK and Ireland. The prize is worth $45,000