The 150th anniversary of the birth of British children's author Beatrix Potter is going to be celebrated with arrival of a previously unpublished story.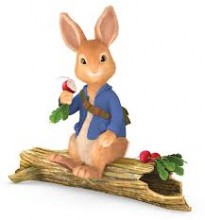 Peter Rabbit is back in the "Tale of Kitty-in-Boots," which was tracked down by publisher Jo Hanks after finding a reference to the manuscript in a book about the author.  Potter had written to her publisher about the story of "a well-behaved prime black Kitty cat, who leads a rather double life."
Hanks discovered the manuscript in the Victoria * Albert Museum's Potter archive.  It features an older version of Peter Rabbit, who was Potter's best-known creation.
Generations of children have grown up with Potter's tales of animal characters including Peter Rabbit, Jemima Puddle-Duck and hedgehog Mrs. Tiggy-Winkle.