Former Israeli President Shimon Peres is said by his doctor to be "doing great" after spending the night in hospital.
92 year old Peres was rushed to hospital with chest pains last night, days after he suffered a mild heart attack.
His personal physician told Israeli Army Radio today that Peres' heart rate had returned to normal but it's not yet clear when he would be discharged.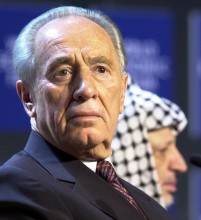 Shimon Peres is a Noble Peace Prize laureate and completed his seven-year term as president in 2014. He remains active through his non-governmental Peres Center for Peace, which promotes coexistence between Arabs and Jews.
During his 70 year political career, Shimon Peres also served three brief stints as Israeli Prime Minister.