New York City's famous Ziegfeld Theatre is going out of the movie business.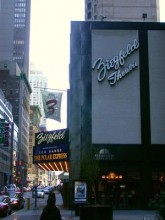 The famed midtown Manhattan movie theatre opened in 1969 and will close in a few weeks.  It's to be reborn as a corporate events space next year.
Special events company Gotham Hall has agreed to a 20-year lease on the new Ziegfeld Ballroom which will occasionally pay homage to its cinematic past with movie screenings.
The Eglinton Grand in Toronto does a similar business.  It is no longer a movie theatre, but as a banquet hall it remains a standing tribute to a time when people went to see the movies in a spacious and grand theatre setting.