Toronto's budget chief has a plan to balance the city's books.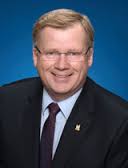 Gary Crawford is suggesting some trimming, but also using a generous dose of reserve funds and a 1.3 per cent property tax increase.
Under the budget chief's plan, dropped are the millions earmarked for the Mayor's task force on community housing, improvement to park's facilities and bolstering the city's accountability offices.
The plan still requires approval from the Toronto's budget committee before it goes to full city council for debate.