The Golden Raspberry Awards – known far and wide as the "Razzies" – which celebrate the worst of film making and acting, has released it's list of dubious distinction in film making for 2015.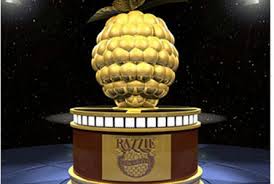 Among those up for the worst movie of the year are "Fantastic Four", Fifty Shades of Grey", "Jupiter Ascending", "Paul Blart Mall Cop 2" and "Pixels."
Johnny Depp heads the list of worst actors for "Mordecai";  Jennifer Lopez is among the worst actresses for "The Boy Next Door"; up for worst screen combo are Jamie Dornan and Dakota Johnson for "Fifty Shades of Grey."
The "Razzies" are handed out the day before the Academy Awards ceremony.  The award itself is a golf ball-sized raspberry which sits atop a Super 8 m film reel spray painted gold.
z