Apparently it's never too late.  Zoomer media mogul Rupert Murdoch is engaged to Jerry Hall, the former supermodel who had a long-time relationship with Mick Jagger.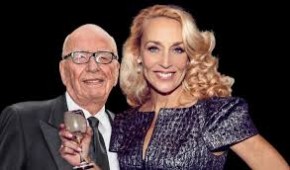 He is 84.  She is 59.  The two have been dating since late summer after being introduced by one of Murdoch's sisters in his native Australia.  They got engaged while attending the Golden Globe Awards in Los Angeles this past weekend.
Murdoch has six children from three previous marriages.  Hall, who hails from Texas, has four children with Jagger.