Fourteen newly elected Toronto Liberal MP's have confirmed the new government's commitment to provide $2.6 billion for Mayor John Tory's SmartTrack transit plan.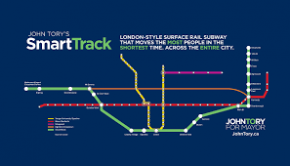 In June of last year, then-Prime Minister Stephen Harper pledged to put the money toward SmartTrack and at the time the mayor expressed confidence the city could come up with its share.  The MPs went to city hall Thursday to reassure Tory about the fate of the funding since the government changed hands in November.
Under Harper's plan, the city would have had to apply for the funding – a $1 billion a year starting in 2019 – just like other cities in Canada.  What is still up for discussion is how the city will come up with its portion of the $8 billion total price tag.