Rob Ford returns to Toronto's Mount Sinai Hospital today for a fourth round of chemotherapy that he says will keep him from Toronto City Hall for much of the rest of January.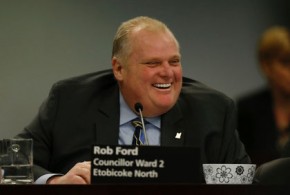 (Rob Ford seen recently with new dental work)
The city councillor and former Toronto mayor is undergoing treatment for a new tumor that doctors found on his bladder in the Fall. The growth emerged after what was a successful removal of a large tumor in his abdomen that had caused him to drop out of his bid for re-election in 2014.
Ford says he expects to have another MRI following this round to see what effect the chemo has had on the tumor, but he says he has no clear sense of exactly when that will take place.
He did say his oncology team thinks "the chemo is working great," what he says they call "the juice." And this time, unlike last, he's says he's not losing his hair.