Ricky Gervais has donated a signed guitar to the primate sanctuary that houses the Ikea monkey.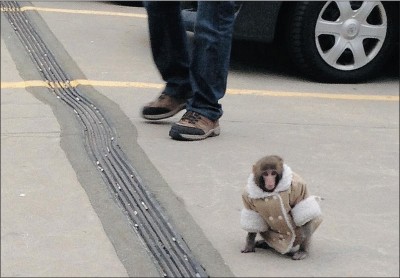 "Story Book Farm Primate Sanctuary," northeast of Toronto, is auctioning the instrument on eBay.ca – with biddiing due to close on January 14th.
Comedy star Gervais is a well-known animal lover.
He used the guitar during filming of an upcoming comedy special here in Toronto.
The primate sanctuary in Sunderland, Ontario, says sale proceeds will help to build a new enclosure for Darwin – also known as the Ikea monkey, and his new roommates, Cody and Pugsley.
The two male rhesus macaque monkeys are due to arrive this month from a research lab.
Darwin has been at the sanctuary for three years.
A court placed him there when he was found wandering in the parking lot outside a Toronto Ikea store – wearing a little shearling coat.
The incident went viral.