According to a new Forum Research Poll, nearly half of Ontarians polled believe Kathleen Wynne knew about the gas plant cancellations.
In 2011, then Premier Dalton McGuinty cancelled two gas plants days before a provincial election. There are estimates the move cost the province more than $1 Billion.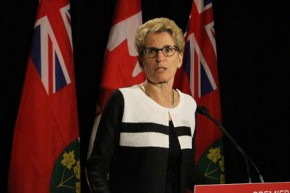 Premier Wynne was an MPP and Cabinet Minister at the time.
Last week, David Livingston and Laura Miller – both former aides to McGuinty – were charged by the OPP in connection with deleted e-mails in 2013.
The same poll suggests 23% of Ontarians believe Kathleen Wynne is doing a good job as Premier, while 61% say they disapprove of the job she's doing. 15% say they don't know.