Sheet music, written by Ludwig van Beethoven, found in a Connecticut home, has fetched $100,000 at auction.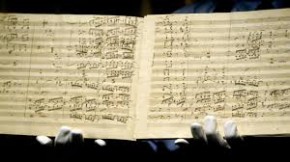 An appraiser spotted the sheet music while visiting the home of a Greenwich woman who was looking to sell some belongings.  He then recognized the sheet music as Beethoven's work.
Research authenticated the music and determined it was from a sketchbook dating to 1810 which was used by the German composer for brainstorming.
The music sheet was purchased by a German antique dealer.
As yet, there is no explanation of what happened to the sketchbook after Beethoven's death in 1827 or how the page found its way to Greenwich, Connecticut.