70-year old Isreali-American violinist Itzhak Perlman has been awarded this year's "Jewish Nobel", the Genesis Prize for his accomplishments as a musician, teacher, and advocate for the disabled.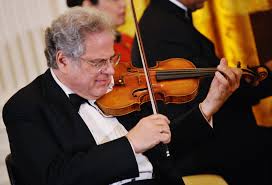 Perlman has won 16 Grammys, including a lifetime achievement award in 2008, has performed with or conducted the world's top symphony orchestras and last month received the U.S. Presidential Medal of Freedom, that national's highest civilian honour.
The $1 million Genesis Prize is given each year to an individual who has achieved professional success, contributed to humanity and shown a strong commitment to Jewish causes and the State of Israel.
Israeli Prime Minister Benjamin Netanyahu is slated to present the award to Perlman at a ceremony in Jerusalem in June.