U.S. President Barack Obama is promising that the U.S. will overcome a new phase of terror that he says threatens to "poison the minds" of people around the world.
In a rare Oval Office address last night, Obama said the U.S. and its allies are stepping up the fight against ISIL, noting Britain and Germany have joined in bombing ISIL targets in Syria and the U.S. has increased attacks on ISIL oil infrastructure.
Obama also pointed out that the vast majority of terrorist victims around the world are Muslim.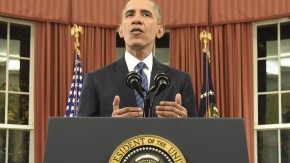 "If we're to succeed in defeating terrorism, we must enlist Muslim communities as some of our strongest allies, rather than push them away with suspicion and hate," Obama then paused before adding, "That does not mean that an extremist ideology has spread in some Muslim communities. That's a real problem that Muslims must confront without excuse."
Obama's televised statement followed Wednesday's shooting in San Bernardino, California that killed 14 people and wounded 21 at a holiday party for social service workers.
Investigators say a co-worker and his wife carried out the attack, and that the wife had pledged allegiance to the Islamic State terror group and its leader in a Facebook post.
San Bernardino County employees are set to return to work today for the first time since the massacre.