The Prime Minister's Office is defending the wages paid to two women who help care for Justin Trudeau's children.
The Prime Minister's director of communications explained in an email that "like all families of prime ministers, a small number of staff provide assistance. The email from Kate Purchase goes on to say that "given the nature of the Prime Minister's responsibilities and his young family, the Trudeau's employ two household employees, who in addition to performing other duties around the house, act as secondary caregivers to the three children."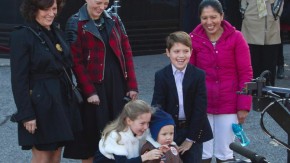 (Trudeau's children pictured with their grandmother Margaret Trudeau and 2 caregivers)
Recent cabinet orders revealed the appointment of two special assistants at the Prime Minister's residence who've been caring for Trudeau's children. This has prompted critics to ask why the Prime Minister is billing taxpayers for nanny expenses after claiming during the election campaign that his wealthy family did not need public daycare funding. The Prime Minister is also being criticized for paying the women too little; $15 to $20 an hour during the day and $11 to $13 for the night shift.
The explanation from the PMO says "the calculation of their salary takes into account the fact they are given meals as part of their duties."