Canadian businessman and environmentalist Maurice Strong has died at the age of 86. He was the founding executive director of the United Nations Environment Program.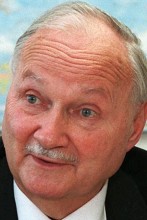 Prime Minister Justin Trudeau says Strong was an "internationally recognized environmentalist and philantropist" who "used his remarkable business acumen, organizational skills, and humanity to make the world a better place."
There were no immediate details about where and when Strong died.
Strong convened the 1972 Stockholm conference on the human environment and the 1992 Earth Summit in Rio de Janeiro.