What's being described as a suspicious incident in Toronto at the end of August is being investigated by the RCMP.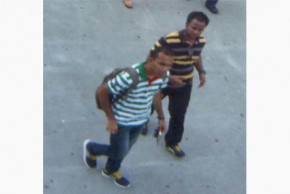 The Mounties have released photos of two men they are hoping to identify.
According to investigators, at about 3:30 pm on August 31st, a passerby noticed two men exhibiting signs of suspicious behaviour on the John Street Bridge near the Rogers Centre.
The witness passed the information to local police, who submitted a report to the RCMP's National Critical Infrastructure team, which collects information on suspicious incidents that may be related to national security.
The Mounties say it's unclear what they were allegedly doing and Supt. Lise Crouch says that will not be released until officers speak with the pair.
She adds there were six reports of suspicious incidents in the area over the course of that week and all but this one have been resolved and found not to be criminal.
Investigators don't believe the incidents are linked.