Bladder Cancer Canada is thanking some 2000 walkers across the country for helping to raise a record $505,000 to fight bladder cancer.
Funds raised from this year's 6th annual Bladder Cancer Canada Awareness Walk will go toward helping bladder cancer patients and their support teams address the day-to-day issues of this disease, increasing awareness of bladder cancer among the general public and medical community and funding research which pursues the diagnosis, treatment and elimination of bladder cancer.
"Over 80 percent of Bladder Cancer Canada's annual revenues come from the walk which is why this signature event is so critical," says National Walk Chair Ken Bagshaw.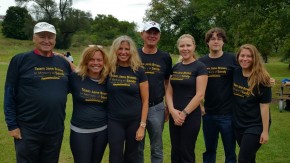 Zoomer Radio's Jane Brown captained a team for the 2015 BCC Walk.
"Thanks to generous Zoomer Radio listeners, my team raised more than $5000 for this year's effort," says Brown, who's mother Sandy died of bladder cancer in 2012.
Next year's Bladder Cancer Canada Awareness Walk is scheduled to take place on September 25, 2016 (dates may vary in some locations).