Toronto is to become home to the third "Comfort Women" statue in North America.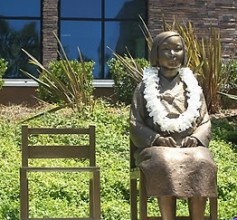 The Korean Times reports a replica of statues in California and Michigan is headed toward the Korean Canadian Association of Metropolitan Toronto.  An opening ceremony is scheduled for today at the association's headquarters.
The controversial statue commemorates Korean women who were used as sex slaves during the Japanese occupation of Korea between 1910 and 1945.
The statues are not without controversy.  One stands in front of the Japanese Embassy in the South Korean capital of Seoul.