Toronto Mayor John Tory has been studying the political promises made thus far, to decide which party will do the most for the city.  But, he is not yet prepared to endorse any party ahead of next Monday's federal election.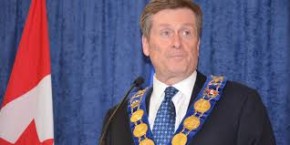 Both the Liberals and Conservatives have pledged to fund the mayor's Smart Track transit plan and the Liberals have promised infrastructure money for affordable housing repairs.  Tory says as far as endorsing any one political party, he's received no indication that anyone is awaiting his pronouncement and adds voters in Toronto are smart enough to make their own decisions.
The city sent an affordable housing survey to 100 candidates in 25 Toronto ridings.  Only 20 of the candidates responded.  None were from the Conservative Party.