Ontario's Environment Minister has launched a investigation into Volkswagen Canada and Audi Canada over the international scandal involving the companies' diesel cars.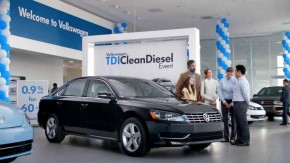 Glen Murray says the actions taken by the car companies are unacceptable and the government wants to make sure the right steps are taken to ensure Ontario's emissions standards are met.
Volkswagen and Audi are being investigated for selling turbo diesel cars with computer software that bypasses the vehicle's emissions controls.  That results in better performance, but it also causes emissions that in some cases exceed standards by up to 40 times.
There are about 35,000 of the affected models in the province.
Ontario's strict Environmental Protection Act prohibits the sale of vehicles that do not meet emissions standards.  Murray's ministry has the power to refuse to renew the license registration of car owners who do no provide proof that their diesels have been cleaned up.