Blue Jays fever is catching, but is it reason enough to call in sick tomorrow for the the teams first post season game in 22 years?
Toronto Mayor John Tory says even though he can't declare tomorrow and Friday as holidays, he says fans will find a way to watch the games.
"I don't think there are going to be too many people working because the games are both sort of in the mid-day period, and I think any right-thinking Torontonian or Canadian are going to be at the game or watching the game. And I just hope some work gets done because you can't have the city grind to a halt, but the holiday would probably be realistic. I wish I had the power to declare holidays, in which case I would declare a half holiday at least for Thursday and Friday, but I don't have such power," Tory joked.
If you work at Canadian Tire's corporate office in Toronto, you don't need an excuse to play hooky on Friday to watch the Jays' second playoff game.
A company statement says Canadian Tire will close it's corporate offices, including head office in Toronto, Sport Chek's head office in Calgary and Mark's Work Wearhouse's head office in Calgary on Friday, giving some 5000 employees the chance to watch the game.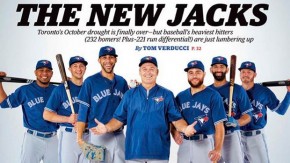 The Toronto Blue Jays meantime, have made the cover of Sports Illustrated for the first time in more than a decade, but some fans are nervous about this.
While it's an honour, those who are superstitious say there's something known as an S.I. cover "jinx" that's afflicted many otherwise successful athletes over the years.
Sports Illustrated's Baseball Playoff Preview edition shows manager John Gibbons along with star pitcher David Price and several sluggers from the Jays impressive offence, including Edwin Encarnacion, Jose Bautista and MVP candidate Josh Donaldson.