The Uber-Taxi battle resumes today at Toronto City Hall. City Council is meeting today to deal with the Uber issue as Mayor John Tory continues to insist both cabs and ride sharing services need to co-exist for the benefit of the city's residents.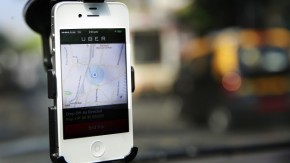 "I've said throughout this debate, it isn't really about Uber or taxis, it's about the public and making sure they have a choice of convenient, affordable, safe ground transportation," Tory said while at a news conference at the site of the Gardiner Expressway construction on Monday.
Leading the fight for the cab industry is Kristine Hubbard of Beck Taxi. She says the only way Uber can be a safe option, is if it plays by the rules.
"Fairness, again a level playing field, we've talked about this before. No restaurant opens and says hey, we're not going for health inspections, we're not going to pay minimum wage and liquor licenses, no thanks. That just doesn't happen. We have rules. They're a taxi service, as Beck Taxi does, they connect riders with drivers," Hubbard reiterated in her stance against Uber.
Councillors will be receiving petitions today, brought forward by both Uber and the taxi industry. Last week, Uber launched a petition asking Torontonians to express their support for regulations that will allow the Uber X service to continue operating in Toronto, as has been recommended by city staff.
An internet poll conducted earlier this month finds Uber has earned 30 percent more rides than dispatched taxi cabs in the major Canadian and American cities where both are available.
Zoomer Radio's Goldhawk Fights Back takes your calls on the Uber-Taxi dispute after the 11am news today.