It wasn't all about the economy Wednesday on the federal election campaign trail.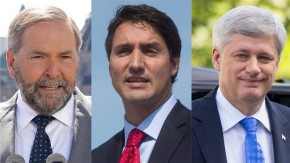 NDP Leader Tom Mulcair accused the Harper government of not doing enough for those fleeing Syria, Iraq and heading to Europe.
Campaigning in B.C., Mulcair says the NDP would take the crisis seriously and make sure Canada does its part to it can again be a respected player on the global stage.
But the Conservative leader said during a stop in North Bay, Canada is still the largest, single recipient per capita of foreigners of any country – in the world.
Stephen Harper says refugee resettlement alone cannot solve the problem as long as there are terrorist groups like the Islamic State, creating millions of refugees.
That's why he says Canada's taking part in the bombing mission in the Middle East.
Meanwhile, in Trois-Rivieres, Liberal Leader Justin Trudeau says this country should become a safe haven for more than the 10,000 new refugees promised by Harper.
Trudeau adds the Liberals had already promised to boost that to 25,000 before the election was called.