Stephen Harper is facing increasing political pressure to take time from the election campaign and use his position as prime minister to work for the release of jailed Canadian Mohamed Fahmy.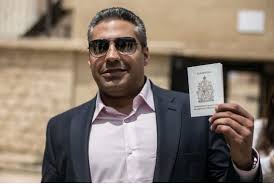 An Egyptian court has sentenced the Egyptian-born 41-year old journalist to three years in prison on terror charges related to his work with the Al Jazzera TV network.
Defence Minister Jason Kenney says work is going on behind the scenes to secure Fahmy's release.  However, Kenny wouldn't discuss details or specify whether the prime minister would personally intervene.
Fahmy was arrested in December of 2013 in what many see as the Egyptian Government's continuing crack down on free speech.