Critics are concerned the video, showing the shooting of a reporter and camera man in Virginia yesterday, has ushered in a horrific new chapter in social media.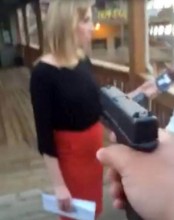 Within in an hour of the shooting, a 56 second video, showing the actual event itself from the shooter's perspective, was uploaded to Facebook with a tweet from the handle Bryce Williams 7, alerting people to the crime that he had just committed.
The video then went viral.
As a result, not only did an audience learn of the gun violence, but almost immediately was able to see it and in many cases couldn't avoid the video because it appeared on people's Facebook newsfeeds and often began playing with no active click.
Police say the suspect, Vester Lee Flanagan II, a former on air employee at the same station where the victims worked, used the air-name Bryce Williams, died later of a self inflicted gunshot wound.