British fans of J.R.R. Tolkien are now able to read the first new prose piece published in years from the "Lord of the Rings" author. Unfortunately, readers in Canada will have to wait until late October.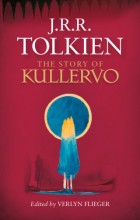 "The Story of Kullervo" is Tolkien's version of an epic Finnish poem that experts describe as "undeniably his darkest work".  The short story was written in 1914-1915 when Tolkien was still a student at Oxford and was the author's first effort at writing prose.  He'd been a poet until then.
The Story of Kullervo went on sale in England today.  It won't be released in North America until October 27th.