She was a pioneer of female superheroes.  Yvonne Craig died of breast cancer this week at the age of 78.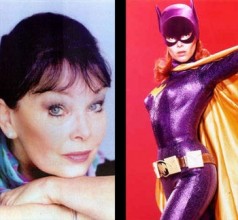 It was Yvonne Craig who originated the role of Batgirl in the 1960s Batman TV series.
As a trained dancer, Yvonne Craig did her own stunts.
She also had a memorable role as the green-skinned Orion slave girl who wanted to kill Captain Kirk in a third season episode of Star Trek.
Her post Batman TV stint lasted several years and spanned many of the hit shows of the time, including The Six Million Dollar Man and Mod Squad.
Yvonne Craig also wrote a memoir called From Ballet to the Batcave and Beyond and was publicly vocal about her support for free mammograms for women who can't afford them.
She fought breast cancer for two years before her death.  The cancer metastasized to her liver, and she died Monday in her home in Pacific Palisades.