After a warm and muggy night, it'll be another hot and humid day.  In fact, Toronto could break a high temperature record of 31.6 celcius set back in 1998.  A heat warning from Environment Canada and a Heat Alert issued by Toronto's medical officer of health are in effect with today's high temperature into the low 30's once again with maximum humidex values in the 37 to 40 celcius range.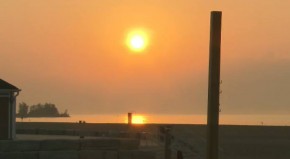 (Photo credit: CTV Toronto)
Health risks associated with heat illnesses are greatest for young children and elderly people, as well as people with chronic illnesses such as breathing difficulties, heart conditions or psychiatric illnesses.
Experts say its important to drink plenty of liquids, especially water, to decrease risk of dehydration.
Tomorrow will be another hot one.  By Thursday, temperatures will be closer to seasonal values.