Family members of Canadian teacher Neil Bantleman are celebrating now that he's been released from prison in Indonesia and reunited with his wife Tracy.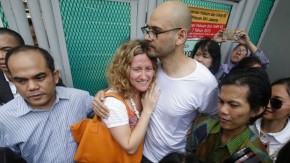 (Bantleman with his wife soon after his release from prison today, Associated Press)
A court in Jakarta earlier today, overturned convictions against Bantleman, who's from Burlington, and an Indonesian teaching assistant who were serving ten years in prison for sexually abusing three children at a prestigious international school in Jakarta.
Neil's brother, Guy Bantleman, says it's now up to the prosecution to now decide if there will be an appeal but doesn't believe that will happen.  He says they hope to get his brother back home soon.
"First stop will probably be Calgary, so that's where we'll probably have a family reunion there, that's where Tracy's family lives, and I would expect sometime later, late August, early September, we'll get him back to Burlington for sure," Guy Bantleman said.
Both Neil Bantleman and his co-accused had denied the charges, and their supporters said the case was riddled with legal errors.