In the first 10 minutes of the first leaders debate of the federal election campaign, Stephen Harper was targeted for raising the age of eligibility for Old Age Security to 67.
It's an issue that's important to members of the zoomer group CARP – A New Vision of Aging. They say the age should never have been raised to 67 from 65.
While the Conservative leader and Prime Minister brushed aside that issue, he defended his government's stance on income splitting as a benefit for older Canadians.
The proposed Ontario Retirement Pension Plan did not come up during the debate, but Harper's Conservatives have been open about their opposition to it.
Zoomer Radio's Michael Kramer had a chance to ask NDP leader Tom Mulcair about his position on it after the debate.  Listen to their exchange here:
The economy also played a major role in last night's Maclean's National Leaders Debate.
In his closing remarks, Liberal Leader Justin Trudeau chose not to talk directly about his policy proposals. Instead, he remarked about lessons he learned from his father, the late former prime minister Pierre Trudeau, and about why the country needs a different prime minister than Harper.
"An economy that works for the middle class means a country that works for everyone, a country that is strong not in spite of our differences, but because of them.  The world needs more of both those things, and after ten years of Mr. Harper, so do we," Trudeau proclaimed.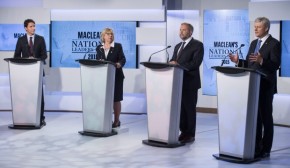 All of the leaders, including Green Party Elizabeth May, begin their day campaigning in the GTA.  The federal election is October 19th.