Steven Sabados has issued a statement expressing his "deepest gratitude" for the public's support after the death of his husband, Chris Hyndman.
49 year old Hyndman, who starred alongside Sabados on several television shows over many years died earlier this week in mysterious circumstances.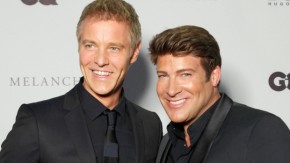 In a statement, Sabados writes about the 27 years the pair spent together, saying Hyndman was "my best friend, my confidante, my partner and my one love."  He says they "built a beautiful life together, always remembered, always cherished."
He says that Hyndman's family and friends' "hearts are broken," but that they found comfort knowing that his spirit endures.
Sabados concluded by asking for privacy.
Hyndman was found without vital signs in an alleyway just below the couple's penthouse apartment in the Queen and Broadview area late Monday night.  No cause of death has been released, but Hyndman's mother said she believes he was sleepwalking when he plunged to his death from the apartment's balcony.