While Canadians tune in to watch the first debate of the federal election campaign tonight, it's expected to be all about Trump on American television.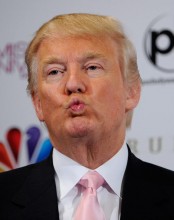 The first U.S. Republican debate takes place tonight in Cleveland.  A communications director for U.S. Senator John McCain's 2008 presidential campaign says tonight's event will be about nine other candidates trying to figure out how to react to Donald Trump.
"If you think about the most memorable moments in political debate history, there almost all not the punch but rather the counterpunch," University of Southern California political scientist Dan Schnur explained.
The other high profile Republicans include Florida governor Jeb Bush, Florida Senator Marco Rubio and New Jersey Governor Chris Christie.