Tonight's first leaders debate of the federal election campaign will expose the candidates' weaknesses, but also show off their strengths.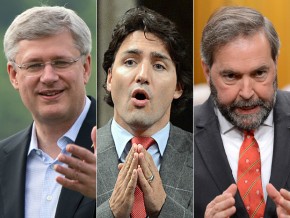 Conservative leader, Prime Minister Stephen Harper will be the most experienced politician on the stage, which will likely give him confidence in poise and delivery.
As for the NDP leader, "I think Tom Mulcair will be a brilliant debater," said University of Toronto political science professor to Zoomer Radio's Goldhawk Fights Back, "We saw him earn his spurs in the House of Commons, how effective he was during this senate scandal.  The wildcard of course, is (Justin) Trudeau, who sounded good in the last two or three days I must say, but he realizes that he and his party are in trouble. He's trying to exude confidence."
Elizabeth May of the Green Party will also take part.  She does not get nearly the attention as the other 3 leaders and so has a chance to style herself as a fresh alternative to the Liberals, New Democrats and Conservatives.
A snapshot of public opinion by Forum Research, taken Sunday as the campaign opened, suggested the New Democrats were trending upwards and commanded 39 per cent popular support. The Conservatives were at 28 per cent and the Liberals at 25. A more recent survey by Nanos suggests the gap between the Conservatives and N-D-P is narrowing.