The chair of the Toronto District School Board has resigned to run in the federal election.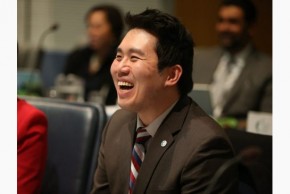 (photo credit: Toronto Star)
Shaun Chen hopes to become the Liberal MP for the new riding of Scarborough North.
During his tenure in the top job at Canada's largest school board … Chen oversaw some rough times, taking over after a number of scandals and amid ongoing feuds among trustees and staff.
Chen said while he is stepping down as chair, he is also taking a leave of absence as trustee for Ward 21, (Scarborough-Rouge River), and will not accept any salary from the TDSB during this time.
It's expected the Toronto District School Board will call a meeting next week to vote on a replacement for Chen.  The only candidate expected to run to replace him is Robin Pilkey, first elected as a trustee last fall to represent Parkdale-High Park.
The TDSB faces a tough few months. A report on the board's future comes from Barbara Hall sometime this month and there could be labour turmoil when school resumes in September.