French customs officials on the island of Corsica have seized a masterpiece by Picasso – that has been banned from leaving Spain.
The painting "Head of a Young Woman" is valued at $27.4 million – and is considered a national treasure in Spain.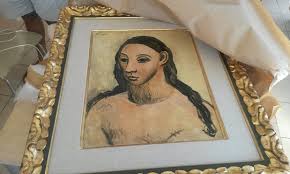 Authorities say they were tipped off that the masterpiece was about to be smuggled to Switzerland.
The 1906 work comes from Picasso's "pink period" and features a woman with long black hair.
The painting was seized from a boat on Friday, when the captain was unable to produce a certificate.
Officials say a document was found in Spanish – confirming that the work was of "cultural interest" and was banned from leaving Spain – Picasso's homeland.