An issue many Zoomers consider crucial is already a hot federal election issue, just two days after the campaign was called.
During a stop in the Toronto riding of Eglinton-Lawrence, where he promised a home reno tax credit, Prime Minister Stephen Harper slammed the  Ontario Retirement Pension Plan.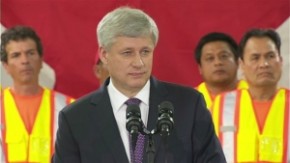 "There are Liberal and NDP governments whose major ask of the federal government is that we hike taxes on workers and small businesses for the Canada Pension Plan.  Workers and small businesses in Ontario and across this country reject that policy."
That prompted a sharp rebuke from Premier  Kathleen Wynne, who's already said she'll be campaigning on behalf of her federal counterpart, Justin Trudeau.
In her statement, Wynne calls the federal stance an "attack" on the people of this province for refusing to provide the same arrangement Ottawa provides other provinces.
The ORPP is a supplementary pension plan for those Zoomers, who do not have a workplace pension.
Harper's Conservatives have made it clear they consider the made-in-Ontario plan a job-killing tax and want no part of it.
Wynne's provincial Liberals have asked Ottawa to help with the administration of the plan — at no cost to the federal government.
Meanwhile, campaigning in Mississauga, Liberal Leader Justin Trudeau attacked the Harper government's economic record.
He says Stephen Harper's to blame for the fact Canada's the only G-7 country in a recession and claims the real risk to the economy is a re-elected Tory government.
NDP Leader Tom Mulcair kicked of his campaign in Montreal.