The long-awaited pedestrian tunnel to the island airport at the foot of Bathurst Street is finally open.
The 260-metre tunnel features four moving sidewalks that carry flyers about the length of two football fields in under 6 minutes.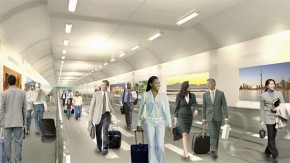 Mayor John Tory was on hand for the ribbon-cutting ceremony.
"Travellers can now enjoy a fast, convenient and reliable way to access the Billy Bishop Airport and no longer have to rely on taking the ferry as the only means of reaching the island airport to catch a flight or to get to the city."
Federal Transport Minister Lisa Raitt, a former CEO of the Toronto Port Authority, says Billy Bishop is Canada's ninth busiest airport and taking a fery to get there is not the best way to make a flight.
Meanwhile, the head of the anti-island airport expansion group NoJetsTO, Norman Di Pasquale, says he doesn't want the tunnel used as an excuse for expansion.
"Expanding the airport with jets would ruin the balance of the waterfront."