A medieval panel by Italian painter Giovanni de Rimini will be staying in England – thanks to the generosity of an American businessman and philanthropist.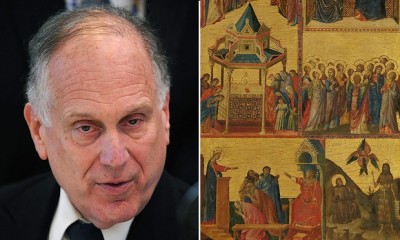 "Scenes From The Lives Of The Virgin And Other Saints" was painted around 1300 – and was in the collection of the Duke of Northumberland at Alnwick Castle until 2014.
The rare work was sold at auction – but a temporary export ban was instituted.
American Ronald S. Lauder provided the $10 million to enable Britain's National Gallery to buy the work.
That means the ancient panel will be loaned to Lauder during his lifetime – but will return regularly to the National Gallery up until 2017 – and then once every three years after that.
Upon Lauder's passing. the painting will return to the National Gallery forever.