Toronto City Council isn't the only municipal government trying to figure out how to deal with Uber.
New York City councillors have backed away from their fight with the ride sharing app, agreeing to drop, for now, a plan to place a cap on the number of vehicles Uber operates in Manhattan.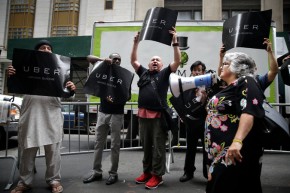 (Uber drivers and their supporters protested in front of the offices of the Taxi and Limosine Commission in NYC in May)
The move brings a temporary end to a fractious struggle that had consumer City Hall for several days.
Under an agreement with Uber, the city will conduct a four month study on the effect of Uber and other for-hire vehicle operators on New York's traffic.
At Toronto City Hall, Mayor John Tory has promised to come up with a bylaw to appease both the taxi industry and the new ride sharing service.