Actor and director Don Cheadle's Miles Davis biopic, "Miles Ahead," will make its world premiere at the New York Film Festival.
The Film Society of Lincoln Centre has announced that the film has won the cherished spot of last night closer.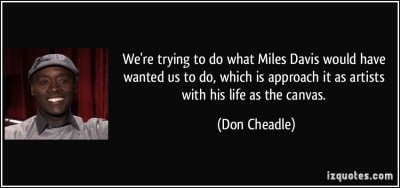 The project has been a long-time passion for Cheadle, who stars as the jazz trumpeter – and directs for the first time.
"Miles Ahead" concentrates on Davis' reemergence in 1980 after his so-called "silent period" in the late 1970s.
The festival runs September 25th through October 11th – and opens with "The Walk" – directed by Robert Zemeckis.