Japan's Mitsubishi corporation has made a landmark apology for using American prisoners of war as forced labour during World War Two.
Senior executive Hikaru Kimura expressed remorse that prisoners had been put to work in mines operated by the firm while at a ceremony in Los Angeles.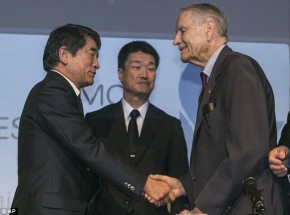 Ninty-four year old James Murphy is one of the few surviving former U.S. prisoners forced to work in Japan.  He was there to accept the apology.
"I have just witnessed something of a historical nature, because for 70 years, since the war ended, the prisoners of war, who work for these Japanese companies, have asked for something very simple, they asked for an apology," Murphy said thoughtfully.
It's believed to be the first such apology by a Japanese company.