She has been one of Bill Cosby's strident supporters, reluctant to believe dozens of accounts from women who say Cosby drugged and sexually assaulted them. But comedian Whoopi Goldberg appears to have changed her stance.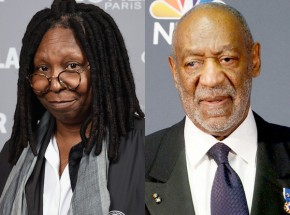 During TV's The View yesterday, Whoopi spent over six minutes talking about the accounts with ABC News legal affairs analyst Dan Abrams, and asked repeatedly what legal recourse, if any, Cosby's accusers have. Abrams explained in almost all of the alleged cases, the civil and criminal statute of limitations has run out, meaning the only recourse the alleged victims have is to make their stories public. Goldberg ultimately conceded the accounts all lead to one conclusion.
"What we've learned is there's no recourse for these women except what they're doing.  If this is to be tried in the court of public opinion, I've got to say that all of the information that's out there, kind of points to guilt," Whoopi said to a smattering of applause.
She went on to urge viewers to contact their state representatives regarding laws that place time limits on sexual assault cases.