The mayor's task force on Toronto Community Housing Corporation has relased a interim report that says hundreds of millions in additional funds for repairs have been found through mortgage re-financing.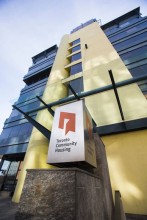 Former Toronto mayor, Liberal Senator Art Eggleton, leads the six-person task force made up of housing, finance and real estate experts.
The group, city and TCHC officials have refinanced a number of mortgages, freeing up an extra $171-million this eyar and $200-million next.
It'll go toward the $2.6-billion repairs backlog.
Community meetings were held this spring and Eggleton says "One of the most common themes we heard is that tenants do not feel safe in their own homes.  that's not right and it needs to be addressed right away."
The interim report calls for the re-deployment of safety staff to get drug dealers out of TCHC buildings and to petition the province for tougher legislation to evict criminals.
A final report's expected by the end of the year.