A new agreement between Ottawa and Kiev will see a near elimination of duties on goods coming here from Ukraine.
Prime Minister Stephen Harper announced the deal as he met with his Ukrainian counterpart, Arseniy Yatsenyk.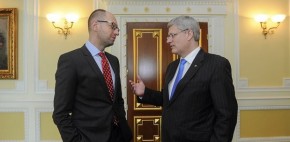 They huddled at a government property overlooking Meech Lake, minutes from Parliament Hill.
Once in effect, the agreement would eliminate 99.9% of tariffs on current imports from Ukraine and 86% of Ukrainian tariffs on Canadians products.
Canadian trade with Ukraine was worth $244-million last year, down from $322-million the year before.
The two leaders also discussed Russian aggression in eastern Ukraine.
Canada's concluded free-trade negotiations with 39 countries since 2006.