Only hours before the official opening of the Toronto 2015 Pan Am / Parapan Am Games, David Peterson mused if all goes well, Toronto might take another shot at landing the Olympics.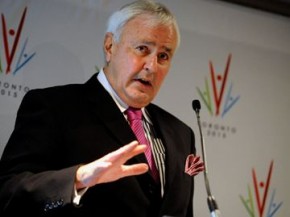 "If we do a good job, we'll have the option of having Olympics.  If we don't do a good job and if the city doesn't respond, we will not have that option," says the head of the Pan Am Games organizing committee.
"By and large, with the exception of a huge stadium, you have all of the facilities you need to put on a major Olympics in the next 10 or 15 or 20 years."
Peterson is quick to add "the timelines on these things are very long," but if the Games go well, a future leadership group could use them as the basis for another pitch for the Olympics.
As for these games, he calls them "the best organized multi-sport games ever".