If  Justin Trudeau becomes Canada's next Prime Minister, he'll put a price on carbon pollution.
The bold move was part of Trudeau's environmental platform – unveiled  today.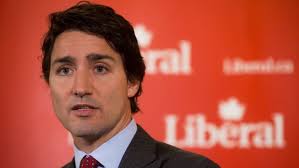 Trudeau told media in Vancouver that within 90 days of taking office, his  Liberal  government would work with the provinces – to map out a plan to reduce the country's collective carbon footprint.
And he says he would invite all of Canada's premiers to join him at the United Nations Climate Change Conference in Paris – at the end of this year.
The Liberal leader also says he would cancel admission fees at national parks in 2017 – as part of a celebration of Canada's 150th anniversary.
He's also promised to beef-up the environmental review process, which he says has been gutted by the Conservative government.
And he says the Liberals would increase the amount of protected marine and coastal areas –  to five per cent by 2017 – and 10 per cent by the year 2020.